Data Driven B2B Marketing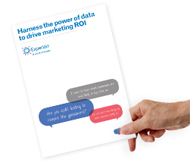 The Experian pH team
Paul Henry - Managing Director
Paul joined Experian pH as a trainee consultant in 1996 and moved on to become Director of Client Services in 2010. In 2012 he took over the role of Managing Director from Max Firth.
As a Client Director, Paul has worked on projects in a wide range of industries from Banking, Electronics and Telecoms to Distribution and Logistics in both the UK, across Europe and in the USA.
English-born, Paul received an MA in Chemistry from Magdalen College, Oxford.
Frederic Vander Elst - IT Director
Freddie was one of the founding members of the Experian pH Group, and is the Head of IT as well as of the Web-tool development team. His previous experience involves work in the Banking, Finance, IT Hardware and Telecoms industries, as well experience across other Manufacturing and Service sectors. Freddie was the architect of Experian pH's best of breed file matching software, as well as the unique database design which allows The Experian pH Megafile to maintain its market leading status.
Belgian-born, Freddie received an MA in Economics from Stanford University, California.
Sandrine Hammi - Client Director
Sandrine joined Experian pH as a trainee consultant in 2000. She has worked on projects in a wide range of industries from Banking, Insurance, Temp Agencies to Public Sector in both France and the UK. With developed analytical skills and a strong statistical background, Sandrine is heavily involved in many technically complex projects as well as in R&D.
French-born, Sandrine received a degree in Statistics from then ENSAE, Paris
Max Firth - Managing Principal
Max took over the leadership of the business from Rolf Hickmann in 2010, having joined Experian pH as a trainee consultant 20 years earlier in 1990. He has now moved on to become Managing Director of Experian Business Information Services.

Rolf Hickmann - Founder
Before founding the Experian pH Group in 1987, Rolf was a Strategy Consultant and Case Leader at The Boston Consulting Group in Munich, London and Paris. Rolf was previously Project Manager in International Technology Transfer at GTE.
Rolf handed over the management reins in 2010, but remains in contact with the organisation.