Data Driven B2B Marketing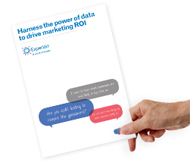 Our clients
Experian pH is not driven by short-term targets for selling products to you. We're interested in ensuring you meet your targets so that we forge long-term relationships, which are refined over time and built on trust, integrity and confidentiality. Over 80% of our revenues are derived from clients we've worked with for more than five years. Many of our relationships span more than 10 years.
That's due to one thing: the value and professionalism we deliver.
We've garnered experience across a host of market sectors including financial services, automotive, IT, industrial services and Public Sector/Economic Development. Across the banking, utilities and telco sectors specifically, we currently work with the majority of the major service providers.
Our approach to you is uniquely tailored to your individual needs, rather than having a 'sector solution' to be rolled out regardless of your specific situation.