Data Driven B2B Marketing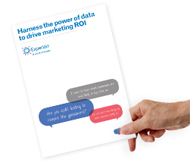 Who we are
Experian pH was established in 1987 with the objective of helping clients to understand their customer base and identify new business opportunities. The founders' experience at the Boston Consulting Group and in IT formed the basis for our own unique offering. Combining marketing potential with financial risk expertise has allowed us to develop a series of proprietary database tools to model potential marketing opportunity with financial risk.
With full operations in both London and Paris, we've been working with over 100 blue-chip clients since our inception. Part of the Experian Group since July 2007, we remain focused on creating true business advantage for you with our own blend of data integrity testing, analytics, and risk prediction. Our approach and expertise is clearly well appreciated in the B2B marketplace with average annual growth at 25% since 1987.
With two offices – one in London and one in Paris – the scope of our B2B service provision spans Europe, North America and Latin America.

Each dedicated client case team comprises a mixture of consultants, analysts and database developers, whose primary aims are to deliver a client-led, customised and flexible services, led by client directors with a minimum of 10 years B2B data experience.
We have garnered extensive experience across a host of sectors including Financial Services, Utilities, Automotive, Insurance, Public Sector, Telcos, IT and Industrial Services.
In all of these areas we work with most, if not all, the major players in the sector and in partnership, delivering our full range of services to multiple divisions across the client groups in most cases; in addition, and as testament to our absolute focus on client service, we have a number of continuous relationships spanning up to two decades.