Data Driven B2B Marketing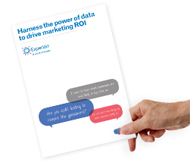 Web based access & prospect management tools
Secure web based access to your addressable market allows sales and marketing teams greater flexibility in a number of areas:
Prospect management
Experian pH DataBox
The Experian pH DataBox product allows you to slice and dice your market, generating a clear understanding of the volume and type of opportunity available by channel, opportunity, geographic distribution
Experian pH Search
A web tool that lets you instantly access the most complete business database available. Helping you find and research your target audience, giving your business a true advantage.
Available in both standard and custom versions, pH Search can be developed specifically to meet your own business needs. It gives you the intelligence you need to increase your customer base.
Creating campaign selections
You can filter according to relationship criteria and company characteristics, including marketability flags, and your own business rules, to create your own campaigns even taking into account previous marketing activity. The data can then be accessed according to your requirements (e.g. simple download, injection into sales management software, etc).