Data Driven B2B Marketing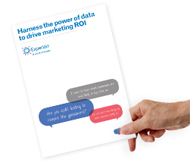 Data optimisation & processing
High-quality data is an immense asset for any organisation – yet data degenerates over time and achieving accuracy and consistency can be a major task.
Backed by the UK's largest business dataset – The Experian pH Megafile – we will help you to optimise your customer and prospect databases through a range of quality-enhancement services, including:
File matching and building
Building accuracy into your data platform at the outset increases success rates for any strategic marketing activity. Our in-house file-matching software, refined over 20 years having processed millions of client records in several countries, imitates human matching and deduplication processes. In tests, matches of client data to The Experian pH Megafile has yielded increased match rates of between 10-15% above those of our competitors.

Database integration
Integrating multi-sourced data into a single data file can be time consuming, labour intensive and open to error. Our proprietary file-matching software makes data integration faster and more accurate than ever.

Data cleansing
Before any file-matching activity is undertaken, it's vital that data is structured consistently. We ensure data is as detailed as possible – including updating address and telephone numbers in addition to many other company attributes.

Customer data enhancement
The Experian pH Megafile contains a wealth of information such as trading status, financial health, behavioural indicators, growth profiles and sector background to enrich your data. Data enhancement can be tailored to the specific objectives of each marketing campaign.
These services may be applied in preparation for a major campaign, or to provide the platform for detailed analysis; or simply to ensure that your databases become, and remain, a potent competitive asset.