Data Driven B2B Marketing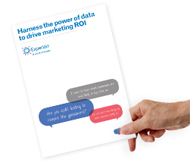 Data management services
As well as providing the largest source of high-quality business data, and offering the widest range of advanced intelligence and analytical techniques, we also make life easier for our clients through our range of data management tools and services. From data visibility and reporting tools to campaign, contact and prospect management systems, we provide a turn-key solution that leverages over two decades of experience in managing large quantities of valuable data.
Data and reporting tools
Regular audits and reports are run to measure the quality of our clients' data, tracking it over time and comparing it to the Experian pH Megafile. This in turn highlights where improvements can be made and ensures that data-driven decisions are based on the most accurate information possible.

Campaign and contact management
We deliver thousands of campaigns every year across our clients, ranging from those that are highly structured and formalised through to others that are much more investigative and speculative. We deliver not only operationally but also advise on what should be included, how to structure the campaign and the broader implications of contact management.

Closed loop prospect management
A key characteristic of ensuring that our clients' sales and marketing activity develops over time is that the results of activity are fed back into the system. In this way opportunity models can be refined over time, and contact management rules can both be applied and improved based on conversion rates which are measured on a regular basis.
A key part of the set up for ongoing data management is the agreement on Business Rules: these define how our clients' data is to be managed. The process is a highly collaborative one where our expertise in data management combined with our clients' communications and contact management strategy results in an extensive range of rules that are to be applied to the database. These can become highly complex, and also evolve over time (through the closed loop but also reflecting developments in the client's strategy).
The data management can also include direct interaction between Experian pH and the client CRM system: we perform updates into CRM systems via API across most of our core clients, ensuring that the systems are as up to date as possible, and optimising resource on the client side as well.