Data Driven B2B Marketing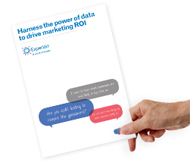 Customer segmentation
Accurate and intelligent segmentation is a prerequisite to effective data deployment, and our advanced tools enable you to 'slice-and-dice' down to unparalleled levels of detail. Focusing on fertile opportunities can transform the economics of sales and marketing, and our advanced tools enable us to deliver insight through a wide range of segmentation techniques:
Customer and market-level profiling
Whether already established, or moving into new markets and assessing the opportunity for the first time, understanding the market, competitive landscape and customers, is critical. Using Experian pH's universe data for rigorous profiling will identify whether assumed market opportunities are real, where they are, where opportunities have been missed, and more specifically, which types of businesses are hungry prospects.
Propensity & opportunity modelling
Knowing how likely it is that your prospective customers will buy products or services from you is critical to business success. What's different about our approach is that we don't just tell you about your prospective customers, we create unique models of propensity based on your place in the overall market, customising any tendency predictions specifically to you.
Share of wallet analytics
Gain deeper insight into whether you are achieving your share of the available spend on specific products or services. We'll also assist you in preparing marketing activity to address the imbalance or improve your position.
Behavioural segmentation
We look far beyond traditional SIC information to determine the needs and behaviour of multifarious types of organisation. Characteristics such as 'generosity' – based on financial information, or 'corporate complexity' – age of firm, affiliations or exporting activity, can be combined to produce multi-layered profiles.