Data Driven B2B Marketing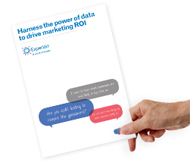 Experian pH services
Experian pH is expert at analysing data from all necessary angles, using techniques and models developed over 20 years, to deliver unique insights along with management and marketing information to enable decision-makers to see more clearly, resolve issues and choose the most productive strategies that help drive businesses forward successfully.
The information buried in business data – whether it's customers' employment history, patterns of export activity, corporate generosity or the spread of geographical demand – is a precious asset for a business and key decision-makers.
Individually, these patterns are interesting; overlaid with multiple other variables and matched to historical trends and relationships, they can be a major factor in launching a product successfully, cutting sales costs, optimising distribution channels and maximising business performance.
We work in consultation with you to create a bespoke service that exactly meets your needs. This may range from simply providing access to data by selecting profiled prospects to delivering superior analytics for modelling specific behavioural scenarios.
Data optimisation & processing
Business name, address, telephone and contact data is cleaned, normalised and then matched to The Experian pH Megafile: the enhanced database becomes a stable business tool and the platform for other work.
Risk prediction
A risk weighted approach to marketing is vital - Experian pH has extensive experience in developing risk models that are tuned to your real bad debt and delinquency exposure.
Customer segmentation
Internal and External data is combined to segment both customers and markets to underpin marketing, sales, product and channel strategies.
Data management services
Support operational and analytic delivery, through on-going maintenance of an integrated marketing database, with information from both your customer base and The Experian pH Megafile.
Propensity & opportunity modelling
By analysing customers, and their purchasing behaviour, compared to the Megafile, models are developed which can tell us which companies are likely to need which products, and how much their likely spend is. Churn, bad debt and profitability models can then further inform sales and marketing decisions on acquisition, retention, cross sell and upsell.
Web based access & prospect management tools
Experian pH have a range of web-based systems to enable you to have direct access to their marketing database. Ranging from purely analytic, campaign management, to full sales management systems.