Tactical to Strategic B2B marketing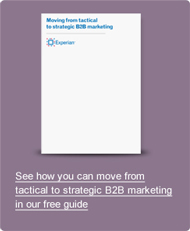 The Experian pH Megafile
The Experian pH Megafile is our uniquely exhaustive source of data on business populations available in the UK and now other European markets.
By combining, integrating and homogenising, record by record, the data provided by the broadest possible range of leading suppliers, we have built an unparalleled view of the business community, its behavioural characteristics and financial performance.
Containing 5.0 million companies, of which 3.7 million are considered prime, live company targets, The Experian pH Megafile is the largest UK business data source. It has proven time and again to be an unbeatable platform for effective database marketing to the UK business population, and for building your own Addressable Market database.
The Experian pH Megafile is an amalgam of eight core data suppliers, including:
Experian
Thomson
Companies House
118 Information
Corpdata
Local Data Company
Intelligent Data Service
Oscar

Breadth
The Experian pH Megafile has 30% more businesses documented than are captured by any one single data source. We continually test potential new sources of data to validate their merit for inclusion.

Depth
We can provide you with a broader range of attributes available on any individual business, drawing on the strengths of the individual data sources, including a better fill-in rate, even on standard attributes such as employment size.

Coherence
Higher data quality is achieved by selecting the best supplier for each individual piece of information. In addition to our main data sources, more than 10 other critical satellite sources are used for data enhancement purposes. As well as keeping the files constantly up-to-date, storing historical values enables time-series trends to be analysed in many cases back to 1990.
The Experian pH Megafile is also available in other countries:
France – learn more about Le Mégafichier Experian pH
Ireland