Data Driven B2B Marketing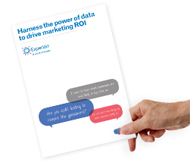 Addressable markets
Each of our clients employ The Experian pH Megafile in a unique way. Some clients use it as a reference against which to health-check their existing data. Others require specific data subsets perhaps for new product launches, or to determine their entry strategy into a new market.
Many, however, use The Experian pH Megafile to build their own addressable market, effectively their own highly-tailored 'universe' data set which determines the size and scope of the market available for their particular proposition.
Perhaps the most commanding benefit of The Experian pH Megafile in creating such a tool is that, unlike many other data suppliers, Experian pH looks beyond standard information sets such as SIC and company size. The true value of the Megafile lies in its potential for customer insight, profiling and modelling. Our expertise in these fields has allowed us to incorporate competitive performance indicators, behavioural predictors and to gauge financial risk.
By working with you to build your individual Addressable Market database we deliver the engine at the heart of your strategic marketing activity. The potential for developing models of propensity, for locating high-value prospects, or for identifying upsell opportunities is contained within this most powerful of tools.