Data Driven B2B Marketing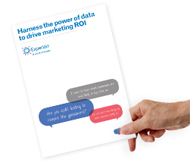 The Experian pH approach
By applying intelligent models to the best data source available, The Experian pH Megafile, we can identify which parts of the business population should be actively targeted, and which should be left to more reactive tactics. This works across your portfolios generically, but just as successfully on products, channels and propositions: and can equally be applied to marketing and risk environments.
Find out how we approach things differently.
To support your sales and marketing activity we identify, from the total business population, the subset which is most appropriate as a target, by applying propensity and value models to The Experian pH Megafile as a whole. This focus on a smaller set of companies then allows for much more relevant and efficient activity and improved ROI.
The Experian pH Megafile was the first, and remains the most comprehensive, fully integrated, database of UK businesses.
It combines all the major business data sources in the UK, and has unparalleled breadth and depth of information, improved fill rates, and unrivalled historic perspective.