Our checklist covers:
How to build relationships with customers to maximise payment
How to manage high value accounts and reduce your risk exposure
How to collapse a cycle of late payment before a debt gets too old.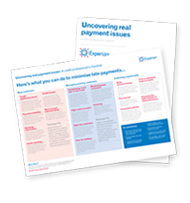 Fill in the form to download your free checklist
The expert view on uncovering real payment issues is available to download as a brochure or a wall chart.
Dwindling assets, high court costs and a lack of available credit insurance make collecting bad debt more costly and more difficult than ever before.
To ensure that your credit strategy covers everything get instant access to 'Uncovering real payment issues: A credit professional's check list'. Please fill in your details below:
*required field