Experian's instant tenant check report can be delivered to you in less than one minute – following the prospective tenant's permission to run the check – enabling you to make fast and informed letting decisions. This will help to reduce the risk of letting your property to the wrong person by getting all the facts you need to know, before you make that vital decision to let.
The Experian Tenant Verifier provides landlords and letting agents with an advanced and extensive range of tenant referencing services, allowing you to safeguard your property investment. Our precise, up to date and easy to use tenant referencing service provides you with all the information you need to make informed property letting decisions.
---
What's included in the report?
Identity Check – this can improve your degree of confidence of an individual's identity. Checks are made against the electoral roll and can verify up to two previous addresses in addition to their current one
Adverse Financial Check – adverse checks highlight financial warning signals in a tenant's background (e.g. CCJs, fraud and other adverse data) that can provide crucial insight into a tenant's suitability and ability to make rental payments
Tenant Risk Score – using the results from the identity and adverse financial check the report will provide you with an impartial decision on whether it is advisable to let your property to a specific individual
---
Sample Report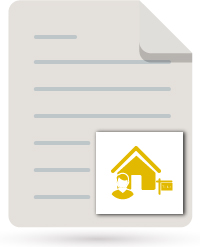 ---
What would you like to do next?