Contact us
Or call us on
0845 234 0391

Experian Link
Create a single customer view to know and understand your customers throughout their lifecycle.
Additional resources
View our infographic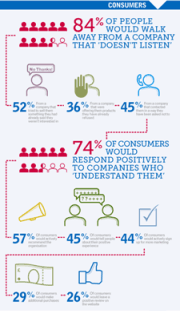 Whitepapers
Multi-channel data deluge drives higher consumer expectations, Experian research reveals
Multi-channel consumers penalise companies who can't turn consumer data into customer insight
The proliferation of marketing channels over the last five years has significantly impacted on the way consumers expect to be treated by brands, according to new research from Experian Marketing Services. As more and more people embrace the multi-channel environment in their own lives, sharing information across multiple online and offline networks, consumers are now demanding that businesses do the same.
Eighty four per cent of consumers said they would no longer buy from an organisation that failed to take account of their preferences, purchasing history and other customer information. More than half would actively recommend and endorse a company that effectively managed and linked its customer data to inform marketing campaigns.
Nigel Wilson, Manager Director, Data & Analytics at Experian Marketing Services, said, "Personalised marketing campaigns driven by the insight gained from a complete picture of customers through a Single Customer View (SCV) across all channels from website to social media to call centre can bring hugely positive results for businesses, yet there is growing intolerance of brands that fail to get the basics right and some clear evidence that marketers are struggling to effectively link their data."
With multi-channel consumers growing used to the tailored experience they receive from online and social media channels, the stakes are getting higher for marketers. The survey of more than 2,000 consumers, commissioned by Experian found that almost half (43 per cent) would make additional purchases or return their custom to an organisation that had correctly marketed products to them based on their personal situation. Almost three in five (57 per cent) said they would actively recommend the company to others, while 26 per cent would go out of their way to leave a positive online review. Meanwhile, 22 per cent would sign up for promotional emails and 32 per cent would sign up for an organisation's loyalty scheme.
Overall, eighty four per cent of respondents identified with one of the three following cardinal sins of marketing as enough to make them vote with their feet and take their business elsewhere:
Trying to sell them something they said they did not want (52 per cent)
Contacting them in a way that they had flagged as unwanted (45 per cent)
Offering them products they have already refused (36 per cent)
The need for an effective SCV is made all the more immediate by the deluge of customer data from digital and traditional channels that is now hitting organisations. Experian's research shows that driving a cross channel customer engagement program without a consistent summary of an individual's interactions with an organisation is impossible.
"Our research shows that consumers today are ready to reward the businesses that treat them as an individual and tailor their communications to fit their personal circumstances. If you don't have a clear view of who your customers are, then it stands to reason that you won't be able to connect with them in way in the way they want," said Wilson. "The marketers that bring together everything that they know about a customer and use intelligent analytics to ensure that the products and services they are suggesting to them are right for their needs will be the sure winners."
In a separate survey of 400 large British organisations, also commissioned by Experian, only 16 per cent of respondents said that they had an effective SCV programme in place and none of those surveyed felt that they had successfully managed to integrate data from every channel that they currently operate across.
Nigel Wilson concluded: "Despite the clear advantages of having an effective SCV in place organisations, both public and private, are struggling with cross channel data linkage to really achieve this complete view. Although 72 per cent of organisations surveyed are trying to implement an SCV, many are challenged by the sheer volumes of data involved and the ever growing number of channels. But it's a challenge that an organisation like Experian has the capabilities to meet. And the combination of higher customer expectations, the fact that it is easier than ever for consumers to shop around and the huge impact on customer loyalty, means getting a good SCV in place now has to be top of the marketer's agenda."