Micromarketer Generation3
MicromarketerG3, Experian's demographic analysis tool, gives organisations deep understanding of people and places to help them make more efficient use of their marketing budgets, to better connect with their customers through deeper understanding, and make informed location planning decisions backed up by world class data and analysis.
With Micromarketer, you have access to Experian's information on individuals, businesses, markets and economies as well as the ability to carry out customer profiling, catchment definition, sales territory analysis, data modelling, mapping and visualisation in one easy-to-use software application.
View the Micromarketer Generation3 brochure »
---
What Micromarketer can do for me
---
Micromarketer key facts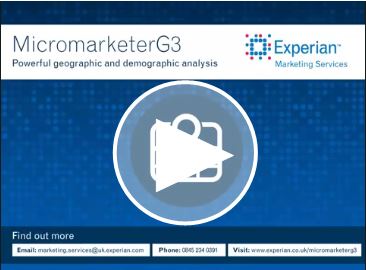 Micromarketer's map-driven user interface makes it easy to use, whilst its powerful geographical analysis tools provide enormous flexibility when it comes to interrogating, analysing and visualising data.
A dynamic database makes it easy to store and retrieve data, to switch between new and old data sets and to add data from different geographies and countries.
Flexible reporting and mapping allows you to compile and share information, create customised reports and maps, illustrate multiple data sets and integrate dynamic multimedia visualisation.
---
If you have any queries, please don't hesitate to contact us and a member of our team will be happy to help.
Call us on 0845 234 0391
Outside the UK +44 115 901 6019
Calls cost 2p per minute plus your phone company's access charge
Get in touch