Tactical to Strategic B2B marketing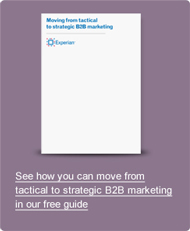 Experian pH
We optimise your prospect and customer database, add new dimensions of data to it, and turn it into an ongoing, recurrent, dynamic lead generation machine, which hunts and breeds.
We tell you why turbulent businesses make better long-term customers. We'll advise you which channels to market make most sense for your business. And we help you develop high-value marketing campaigns that create competitive advantage.
Access the largest national business database built from the broadest multi-sourced data available. Country specific, The pH Megafiles generate a rich picture of corporate information, historical trends and behavioural predictors.
By uniquely combining more than 15 years of data feeds from the best of UK data sources, The pH Megafile delivers 5.5 million company-level records, of which 4.3 million are considered live, enabling you to match your data against The pH Megafile and achieve maximum data integrity.