Contact the Team
0845 234 0391
Outside the UK? Call +44 115 901 6019
9am - 5pm Monday - Friday
Integrating social media into the marketing mix

Stay Ahead With Our e-newsletter
Latest news, events and marketing insights
Digital Advertising
Enabling accurately segmented and genuinely targeted online audiences
We can help you to communicate the right message at the right time to the right audience.
» Watch our video to find out more
Online Addressable Advertising
Experian's Online Addressable Advertising enables you to understand the real-world location and characteristics of key audience groups in the same way as offline targeting.
We combine our wealth of insight, data and segmentation with permission-based consumer data from publishers in a secure way to create anonymous addressable segments for advertisers to use.
How can Online Addressable Advertising help you?
Build accurate and relevant prospect and customer audiences
Bring your own customer data to the advertising inventory
Consistent segmentation and messaging across multiple online/offline channels and publishers
Improve connectivity and targeting to increase campaign engagement and ROI
Increase the relevancy of your advertising - the right message at the right time to the right audience
Increase campaign efficiency by only targeting the right customers
Secure, compliant and trusted service
How do we work?
Plan. Deploy. Measure.
First we help you Plan how to reach the right audience.
Then we enable you to Deploy your communication to them.
Finally, we help Measure how well it went.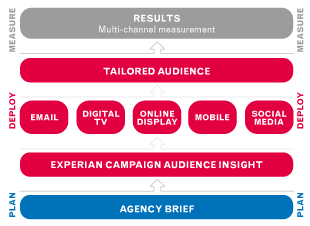 Compliance
We take compliance very seriously. Experian is governed by the Data Protection Act and we only work with media owners who adhere to the IAB Good Practice Principles concerning the use of customer data.

You may also be interested in: