Download the factsheet: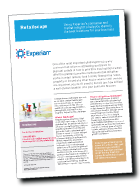 Information is power, and Retailscape puts this power right in the palm of your hand
Whether you're in retail, leisure, food and drink, financial services, property or indeed any other sector, we can help you pin-point prime locations that will really work for you.
What is Retailscape?
Retailscape uses a wide range of Experian data such as
consumer spending habits,
socio-demographics information,
other local businesses in an area,
the economic outlook,
on and offline shopping habits,
local business performance data,
to give you a list of top locations that meet your specific customer needs.

How can Retailscape help me?
Retailscape creates a list of the best locations for you from up to 25 static criteria, depending on how much you know about your customers.
You can then weight the relative importance of different criteria according to your own specific business requirements to help you better understand the pros and cons of a chosen location.
We can also add bespoke customer data and profiles to build a ranking tool that's fully tailored to your business.