Micromarketer
Easy to use, interactive tools to help you make informed and accurate location planning and mapping decisions
Experian's three location planning, visualisation andsite mapping tools cater for the differing needs of our clients and are grouped together in the Micromarketer Suite.
These location planning and mapping tools allow you to analyse the characteristics of customers and visualise them on your PC or online. The insights gained from customer and market analysis, as well as sales territory mapping, can be easily shared for efficient reporting and effective location planning.
The Micromarketer Suite comprises:
Micromarketer Xpress (PC/Web based)
Experian's interactive online location planning tool allows you to analyse your customer and store location information, visualise it using maps from Microsoft Bing™ and make sales territory mapping decisions.
Micromarketer Online (Web based)
Easy-to-use web-based location planning tool that gives you immediate access to Experian's market analysis data, wherever you are, and allows you to profile, analyse, map and report on customers and locations.
Micromarketer Generation3 (PC based)
Experian's most powerful geospatial analysis tool allows you to carry out customer profiling, geographic segmentation, sales territory mapping, sales territory analysis, data modelling, market analysis and visualisation in one versatile software application.
»View the MicromarketerGeneration3 product information video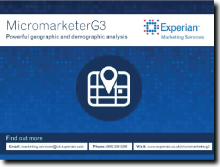 Contact the team
0845 234 0391
Outside the UK? Call +44 115 901 6019
9am - 5pm Monday - Friday