Find out more about Experian's Global Expansion Services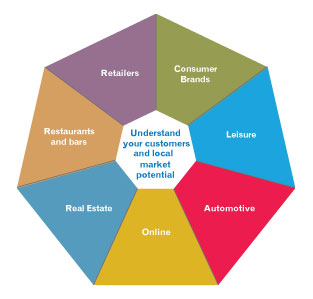 As businesses look to expand, many are increasingly setting their sights on markets outside of their home country. This endeavour can be fraught with challenges due to lack of marketing knowledge or access to good intelligence to prioritise the best opportunities presented by the market.
Experian understand the need for reliable and consistent intelligence on people and places, and importantly, that businesses require actionable insight not data. Experian supports clients around the world in understanding local markets and consumers in order to reduce capital investment risks, identify market potential, acquire and retail customers and gain competitive advantage.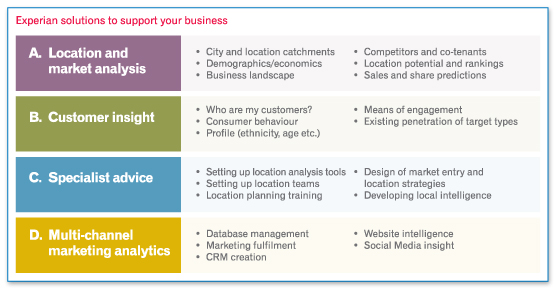 Customer insight
Experian uses an unrivalled breadth and depth of data to help clients develop a detailed and accurate understanding of existing and potential customers.
Spanning 30 of the world's most economically active countries to date, Experian's Mosaic Global consumer segmentation and customer intelligence capabilities help clients drive value from customer data:
Identify the characteristics of your best customers and identify where there are more of them across focus markets to support customer acquisition and location planning
Visualise the geographic distribution of customers to support location based decisions, such as new outlets, acquisition, home delivery, or catchment cannibalisation
Increase customer value by developing more appropriate treatment strategies for groups of customers based on a deeper understanding of their needs and preferences
Enhance the value of your customer database to reduce the cost of customer acquisition and drive retention
Support targeted marketing across channels (store, web, mobile, call centre, direct) to improve results whilst minimising costs
Develop cross market strategies based on a common understanding of customers
Manage customer data across both single and multiple markets.
Experian's expertise lies in turning data into intelligence, and our clients generate greater value from their customers through the use of our the tools, data and insight.
By using unique data linkage solutions, with data hygiene and management, Experian helps clients develop and maintain a Single View of Customers across one or more markets. By combining customer data with Experian's wealth of consumer data and multi-channel customer engagement capabilities, Experian can deliver a single platform from which to improve customer engagement and increase revenues.
Location and market analysis
Experian is able to provide multi-scaled global support to businesses, recognising that decisions about entering or expanding in new markets typically require a macro level 'scan' of a country or region before drilling down to the finer level of city or location.
Pros and cons of different countries
extensive demographic and economic data intelligence
establish the best 'fit' to your strategy based on macro-economics, outlook, the business environment, and consumer profile
identify regions offering greatest potential across both demand and supply factors.
Identifying the best global retail centres and locations
reveal business landscape relevant to the appropriate sector
identify consumer demographics
monitor competitors
calculate existing market share
predict sales
estimate available headroom.
Further applications would be:
Mergers & acquisitions: Understand competitor location types and potential
Improve store performance: Benchmark new locations against the existing network to focus on the most profitable location types
Omni-channel strategy development: Identify new market segments and optimal distribution strategy, including new formats. Drive international presence and growth via a 'right-fit' market approach
Online customer insight: Geocode and map your global customer base to derive insight into which areas/regions have highest online customer penetration.
Combined with comprehensive consumer datasets, Experian location data paints a detailed picture of the demand and supply factors characterising any location. Experian holds population data for the entire world at local level, and has further segmented more than 2.3 billion consumers in over 30 countries including major emerging markets such as Brazil and India using more detailed information.
Specialist advice
Given these challenges, Experian works in partnership with clients directly and/or their Consultancies/Agencies to help develop an international market strategy. Experian's experienced consultants can advise on setting up the infrastructure, best practices, and processes to manage the sometimes considerable demands of extracting strategic insight from global market data. Furthermore, Experian's global data assets enable our clients to approach multiple markets in a consistent manner.
Multi-channel marketing analytics
Experian is uniquely positioned to provide a consistent view of consumers across media channels, spanning bricks, clicks, and flicks, and to help clients identify and adopt the most appropriate channels for each shopper, maximising the value of each customer contact.
Experian Hitwise provides access to rich online traffic data generated by the online movements (upstream and downstream) of millions of internet users. Globally, Experian tracks the online behaviour of 25 million internet users across 5 million websites.
Experian can support client's social media strategy by leveraging the insight developed by Experian Techlightenment, social media specialists. This insight empowers clients to tailor the way they connect with customers through social media based on the brands they 'like' and talk about.
Ultimately, Experian can help client's link traditionally disparate channels such as online, social, and location, empowering you to design fully informed and connected communication and investment strategies, in different markets across the world.