Contact us
Or call us on
0845 234 0391

Prepare to share: Younger consumers turn up the data heat as they share information across channels
Research published today by Experian, the global information services company reveals that younger consumers are more open to sharing marketing information about themselves across multiple channels such as email, post and social networks than other age groups. The findings highlight the challenge facing marketers in encouraging the rest of their customers to also engage across the increasing number of channels available.
The research, which explored 2,000 UK consumers' attitudes to sharing information with brands for marketing purposes, ranked respondents according to their willingness to share information such as their home address, email details, income, mobile number, marital status and Facebook details across six different channels - email, post, phone, text and social networks, Facebook and Twitter.
The findings reveal that more than 80 per cent of UK consumers are happy to share their information with brands across at least one channel.

18-24 year olds - Generation Z or the "Facebook Generation" – are leading this trend. Well over a third (38%) of this group are happy to share across multiple channels (three to five different channels), compared to 27 per cent for the population overall.
More than half (55%) of the UK population are happy to share information using only one channel – which for 79 per cent of this group is email – this reflects the attitude for most consumers over the age of 25.
Just under one fifth of respondents (18 per cent) remain reluctant to share information with brands across any channels, with those aged 55 plus representing 40 per cent of this category.
The research also highlighted that 69 per cent of consumers cited email as their preferred channel through which to receive brand communications, while 27 per cent selected post, the second most popular. Facebook and Twitter were the preferred channel for just eight and four per cent of the overall survey respondents respectively and phone or text was highlighted as a preference by just six per cent of consumers.
Yet age and willingness to share across multiple channels plays an important role in determining a preference for social channels, with Generation Z again leading the way.
Nearly a quarter (24 per cent) of 18-24 year olds are happy for brands to communicate with them on Facebook or Twitter, compared to 10 per cent of all consumers, 13 per cent of 35-44 year olds, four per cent of 45-54 year olds and just three per cent of those aged 55 plus.
Fifty three per cent of those sharing data across more than three channels were willing to share information on Facebook or Twitter, compared to just five per cent of respondents sharing data across one channel.
Integrating channels, for instance email and social, backed up with engaging and relevant content is vital for marketers looking to encourage consumers to interact with their brand across multiple channels. Marketers can capitalise on the social space by giving consumers access to exclusive content, from video clips to special offers when they sign in via apps such as Facebook Connect.
Crucially for marketers, the research reveals that trust is the key factor in customers' willingness to share their data with brands in the first place. Overall, trusting brands to use data in the way they have promised is the main reason cited by consumers for sharing their data (43 per cent of all respondents). Thirteen per cent of respondents will also share their information to get a better level of customer service.
Jon Buss, Managing Director, Digital at Experian Marketing Services, commented: "Clearly the challenge for brands is to get more of their customers sharing data across more channels. Being transparent, truthful and honest with them is essential to gain trust and build stronger relationships. Brands need to demonstrate to consumers that they take the matter very seriously and respect their rights. Above all they must live this through tailored, relevant and timely messages delivered via the channels consumers prefer. Get this wrong and consumers will not hesitate to walk away from the brand; get it right and they will become advocates; 45 per cent of people said that they would tell people about their positive brand experiences ."
The research also explored how consumers interacted with brands. The findings revealed that consumers willing to share data across a greater number of channels have a higher level of engagement whether that is buying online or tweeting about the brand.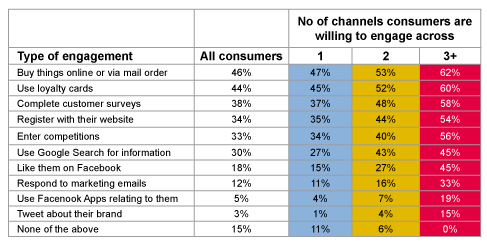 Jon Buss concluded: "Huge amounts of spending power sit with those who are "more reluctant" to share marketing information across multiple channels. Marketers need to build trust to engage with these potentially high value customers and move them to share more and richer data. The more channels consumers share information across, the greater the potential to link this data and the hotter they become in marketing terms."