Victims of Fraud Survey
Would you like this insight report in full PDF format?
The most likely victims
Age and gender of victims
The age of fraud victims has changed and younger people are more likely to suffer than ever before.
2009 saw a three percent increase in the number of 18 - 34 year olds affected by identity fraud. This age group now accounts for a third of all those affected. However, in tandem, the absolute number of older people being targeted has also risen with, in particular, an increase in the number of those near or at retirement becoming victims.
The typical identity fraud victim in 2009 was more likely to be male than female (60:40) and in his late 30s or early 40s. The average age of a victim was 42 , and more than three-quarters of all victims were aged between 25 and 54.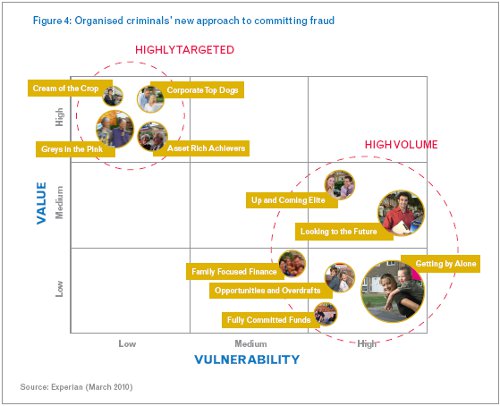 Victim classification
As part of this year's Victims of Fraud Survey, a detailed analysis of new cases of identity fraud has allowed Experian to identify who is most likely to be targeted.
Mapping frauds to Experian's Financial Strategy Segments (FSS) consumer classification, which groups people according to their financial behaviour, reveals that there has been a shift to less wealthy consumers, from those with obvious wealth. These people still have a good credit history but are less likely to actively manage their finances and notice quickly if their identity has been stolen.
To provide a comparative indication of risk, each group is given a risk index score, with the average risk being 100. The higher the score, the greater the risk. For example, a score of 300 means those in this group are three times more likely to be a victim than the average UK resident.
The analysis shows the Up and Coming Elite and Looking to the Future groups, with scores of 293 and 268 respectively, are high-risk groups. These two groups represent young singles and high-flying graduates who are likely to rent and are therefore at greater risk of fraud. They are attractive to criminals because they often work in professional occupations and are relatively wealthy.
While fraudsters' attentions may be moving around, affluent people still continue to be at high risk. Corporate Top Dogs – wealthy directors and business owners – were the most commonly targeted group in 2009, rising from fourth place in 2008. With a risk score of 306, this group has more than treble the average risk of having their identities stolen. Another well-off grouping, Cream of the Crop, with high incomes and living in the best parts of the UK's largest cities, are in this year's fourth place, with a score of 265.
Pensioners make it into the top ten this year, an increase noted in the average age of victims. Greys in the Pink, wealthy retired couples with a high disposable income, were frequently targeted in 2009 resulting in a risk score of 192. This group typically has many investments which generate paperwork that can be intercepted and used to commit fraud. They might also be more vulnerable to scams such as phishing e-mails.
It's not only the affluent who are at risk. Young people living alone and single parents, both on limited incomes and likely to rent, make the top ten as well. People who are Getting by Alone have a risk score of 162. Again the dangers of communal hallways and postal deliveries contribute to their overall risk of becoming a victim of identity fraud.
Other groups at risk include Opportunities and Overdrafts – again a younger-than-average group – with a risk score of 188. The Family Focused Finance group, who have high child-related costs and few savings, and Fully Committed Funds, who may have big incomes often with big mortgages to match, score 190 and 167 respectively.
Figure 5: Top 10 FSS consumer types at risk from identity fraud
index shows level of risk, where 100 = UK average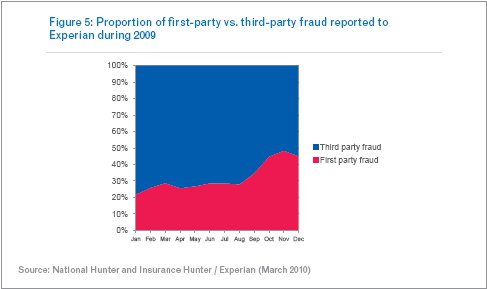 Insight Reports - Archive
2010 Insight Reports
2009 Insight Reports