Opinion on current trends or market issues
New regulations are coming - are you prepared?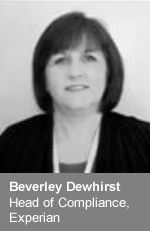 New data protection and financial services regulations will have a profound impact on UK compliance functions. So how can you focus on profitable activity whilst simultaneously meeting increased regulatory pressure? Beverley Dewhirst Head of Compliance at Experian, shares her views…
There's no avoiding it. A 'perfect storm' of new data protection law and financial services regulation is heading our way. We're about to be hit from all sides by new legislation governing how customer data is managed.
The scale of change is broad and profound, and will arrive on a number of fronts. Proposed new EU Data Protection Regulation is a clear response to the challenges of 'the digital age' - taking account of the growth and available sources of data, and particularly the rising popularity of social media. While there's likely to be a huge debate in the run up to the new laws being passed – initial proposals include changes that aim to give people better control of their data, such as the "right to be forgotten", and higher penalties for breaches of the new mandatory requirements. In cases of significant consumer detriment, the fines that could be imposed will be increased from £500,000 to a new maximum of 2% of global turnover. These proposals are not law yet and there is still scope for amendments, however, as we are looking at a Regulation rather than a Directive, once agreed at a European level, there is little scope for change prior to adoption in the UK. It is still at least two years before this new EU regulation will come in to place.
The financial regulatory landscape is changing too. New regulations – and the impending shake-up of the roles and responsibilities of the governing authorities – are viewed as a direct result of mis-selling scandals and financial problems arising from the crash of 2007. Recent years have already brought changes that focus on the outcomes for consumers, including continued focus on the FSA's 'Treating Customers Fairly' initiative and the separation of funding requirements for the Financial Services Compensation Scheme (FSCS), the UK's compensation fund protecting customers of failed financial businesses. Further changes will come into force through the Financial Services Bill, which is expected to be passed by the end of the year.
So what will all these changes actually mean for people working in customer management and collections? Get it wrong and you won't just face regulatory and financial penalties, you'll also suffer reputational and commercial damage. Get it right, on the other hand, and you'll enjoy the benefit of increased customer trust and confidence.
Clearly, you can use the new regulatory landscape as a springboard to gaining a better understanding of your customers. Indeed, having a Single Customer View (SCV) is a regulatory requirement for Deposit Takers (e.g. a Bank) under the FSCS rules. It is therefore imperative for your organisation to fully understand your customers – who they are, any changes in their circumstances, which products they have and the scale of their existing lending and what they are looking for, – ahead of responsibly supplying relevant products. At the same time, SCV could help avoid potential collection problems because you'll have confidence you know your customer has been subject to responsible lending. This focus is echoed by the Retail Distribution Review which is set to ban commission-fuelled sales. 'Know your customer' checks (KYC) will provide the confidence that you are dealing with the right customer.
It's important to acknowledge that change is happening. Equally important is recognising that there's no need to be intimidated by the changes, providing a number of key areas are addressed and vital Policies and Processes around the implementation of new regulation receive visibility and Executive buy-in.
Keeping up to date with new regulations is straightforward, with the FSA running events and publishing regular updates on their website. The ICO http://www.ico.gov.uk/ and the Government's Parliament website http://www.parliament.uk/ are also very informative on data compliance issues and forthcoming regulation. Twitter and other social media is also a great way of tracking key themes and consumer thoughts too.
Experian aims to keep clients up to date with information on the most relevant regulatory issues with our quarterly round-up Regulate. Read the most recent version featuring the latest updates and changes.
New data compliance legislation is on its way. The debate has already started, and Experian is playing a central role. So how prepared will you be?
Beverley joined Experian in 2009 as Head of Compliance. She has over 18 years of experience in the industry, including roles as Senior Manager in Group Regulatory Risk for HBOS/Lloyds Banking Group, Head of Compliance for Equifax and Head of Group Compliance for Callcredit.
A recognised industry figure, Beverley was previously chair of the Credit and Data Management Advisor Panel (CADMAP) for the British Bankers' Association (BBA), and has also represented the banks on a number of industry bodies, including the steering Committee on Reciprocity (SCOR).
Prefer to listen to this article? Please click here.
Previous Expert Opinions
Are lenders seeing all the distress signals?
by Paul Speirs (Head of Data & Business Development)
+ Read more...
Big headache or big oportunity?
by Paul Russell (Director of Analytics, Eperian UK & I)
+ Read more...
Is bad debt the price of growth?
by David Percy (Business Consultant, GCP)
+ Read more...
Is keeping customers loyal practical?
by Rebecca Galvin (Senior Consultant, GCP)
+ Read more...
Is growth back on the agenda?
by Geoff Hunkin (Consultancy Director, Credit Services)
+ Read more...
Are lenders becoming too lenient?
by Mark Keyworth (GCP Principal Consultant)
+ Read more...
Consolidation vs new entrants – will it lead to a sea change in lenders' customer management philosophy?
by Nick Evans (Product & Propositions Director DA)
+ Read more...
The latest responsible mortgage lending proposals:
Can lenders demonstrate responsible lending implicitly?
by Jonathan Westley (Managing Director, Consumer Information Services)
+ Read more...