Opinion on current trends or market issues
Is growth back on the agenda?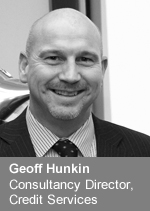 Despite recent announcements of a UK double dip recession, the International Monetary Fund (IMF) is yet to revise its raised 2012 growth forecast of 0.8 per cent .1 Following the Chancellor's March announcement of a range of measures aimed at bolstering growth and improving competitiveness, the forecast seemed bright. But with the latest downturn in mind, is growth really back on the agenda? Geoff Hunkin, a leading expert in financial services and banking solutions, shares his views…
Confirmation that the UK economy shrank in the last quarter of 2011 has been followed by a 0.2 per cent drop in the first quarter of 2012, resulting in the country falling back into recession. Alongside this, the economy has seen a significant shift in the attitude of consumers in regards to credit. Groups of consumers with disposable income and easy access to credit have become wary of risk, while those hit harder by the last financial downturn are turning towards untraditional methods of lending. However, UK consumers with existing credit showed an increase in spending in the final months of last year, with household expenditure rising by 0.5 per cent. This modest growth is expected to continue in 2012, as falling inflation takes pressure off household budgets.2
With current credit holders raising their expenditure, lenders may begin targeting existing customers to increase growth. Responsible lending during a time of expected growth is paramount. It is the job of the credit lender to ensure that customers are in a good financial position before extending credit. By close examination of personal credit profiles, and the different economic influences between socio-economic groups, credit providers can arm themselves with the knowledge to adjust credit strategies to local circumstances and thus find profitable customers.3
As a result of the Chancellor's latest announcement, growth appears to be back on the agenda with a rapid increase in personal allowance, alongside a reduction in the top rate of income tax in the next year. An additional percentage point reduction in corporation tax appears to be good news for businesses, but with the financial sector hit hard by the global crisis, the future of the UK's economic growth remains uncertain.4
Despite positive reports, it is likely that predicted economic growth will be a slow process due to the latest fall into recession. With the state of the euro still critical, the IMF predicts that recovery will be weak in developed countries. However, a positive UK growth is on the books for 2013, with predictions set at 2 per cent compared to this year's 0.8 per cent. According to reports, the euro crisis could have a knock-on effect on the world economy should any of the affected countries seek independence. With output in the euro area predicted to fall by 3.5 per cent over two years, this would see activity decline by 2 per cent over the same period.5
In short, current reports from the IMF suggest that a modest growth is back on the agenda, but latest statistics declaring the UK is in a double dip recession mean the process will be a slow one. With the euro still in crisis there is a threat of worldwide financial impact, meaning times are still uncertain in terms of finance. However, with the IMF's promising growth prediction for this year, the country's economic crisis appears to be on the mend.
Geoff Hunkin
Geoff heads up Experian's Client Consulting team for our UK&I Credit Services business, positioning our best practice tools, data and analytics for our clients. From a strong IT background with over 25 years experience of providing solutions to the banking and financial services industry, Geoff has extensive knowledge of credit risk systems and specialises in web services and business systems integration.
Leading product development and delivery teams at Experian, Geoff has delivered risk management and decision systems into every major UK bank and finance organisation and is a member of the Financial Services Forum.
For more information on whether growth is back on the agenda or to find out how Experian's Customer management and collections solutions can help you understand 2012's growth forecast please contact your account manager, or email creditservices@uk.experian.com.
1Source: This Is Money: IMF: UK will grow faster than predicted in 2012 but eurozone to slide back into recession, 17th April 2012
2Source: Economic Insight: MONTHLY BRIEFING FROM ICAEW'S ECONOMIC ADVISERS, March 2012
3Source: Futureproof: Market Watch: Information + Analysis = Readiness, Spring 2012
4Source: BBC News: IMF sees 'optimism return' as faster growth predicted, 17th April 2012
5Source: Guardian: IMF: Global economic recovery fragile and risk of relapse high, 17th April 2012
Previous Expert Opinions
Are lenders becoming too lenient?
by Mark Keyworth (GCP Prinicipal Consultant)
Consolidation vs new entrants - will it lead to a sea change in lenders' customer management philosophy?
by Nick Evans (Product & Propositions Director DA)
The latest responsible mortgage lending proposals:
Can lenders demonstrate responsible lending implicity?
by Jonathan Westley (Managing Director, Consumer Information Services)