Energise your business with the power of BusinessIQ
Managing commercial credit in today's economy can be a real challenge. That's why Experian created a new business management system called BusinessIQ - an advanced new web portal that meets all your credit risk assessment, customer management and collection needs in one easy-to-use, integrated platform.
Powered by Experian's intuitive business information - blending business, director, consumer and payment performance data - BusinessIQ offers a better informed solution for today's credit risk challenges. It makes your credit management operations far more sophisticated, without adding complexity.
Comprehensive application, credit report and customer information flows seamlessly through BusinessIQ's integrated modules, giving you a complete view of customer acquisition, customer and portfolio management and collections. This business management software includes alerts about your customers to ensure you know about changes that impact your business.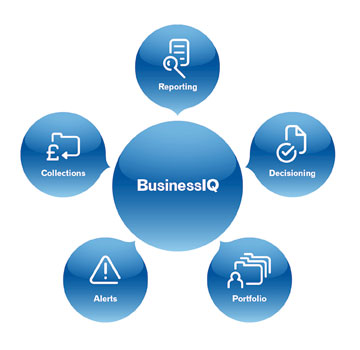 Integrating industry best practices, Experian's high quality data and our unrivalled analysis and reporting capabilities means BusinessIQ puts your business in total control.
With automated decision making and complete customer management, you can manage cash flow and sustain growth more effectively. With its modular approach, you can select relevant features in BusinessIQ and configure them to your needs.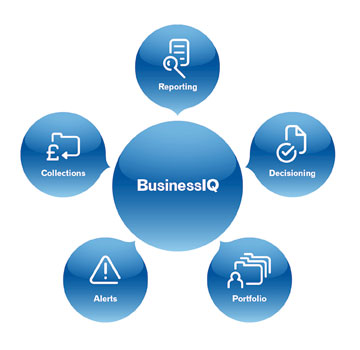 Efficient and intuitive
Linked to all other BusinessIQ modules, Search gives you access to credit reports, directors reports and business information that you can then feed into areas such as Decisioning and Portfolio – allowing you to instantly access and analyse the right information. Everyone can customise their own homepage based on their requirements. This can include:
Prioritised alerts
Watch lists – save time repeatedly searching for businesses that need to be monitored
My tasks – prioritise your daily workload
BBC Business news updates – connects users to updates of national business news
Accelerated search enabling slicker processes
Find the business you're looking for quickly. As you type, BusinessIQ's quick-search technology instantly displays a list of businesses relevant to your request – shaving time off finding business information, credit reports and scores.
Secure access
The Super User has total control over assigning new users, access levels and managing the system. This way, your business can react quickly to changes in personnel or responsibility.
On-demand support
BusinessIQ is fully supported by Experian's customer services, webinars and user guides.