Where are businesses securing capital?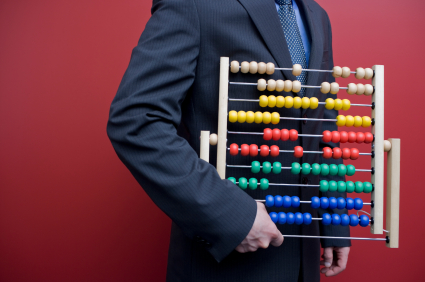 Much has been written about the challenges businesses and entrepreneurs have faced in recent years trying to obtain capital to establish and grow their operations. Indeed almost as much seems to have been written about the need for a thriving population of small and medium-sized enterprises (SMEs). This is vital for a healthy economy and a key way that the UK can rejuvenate itself and encourage growth .
Trade credit has been one of the most effective ways Britain's small and growing businesses could obtain financein the past, which involves businesses allowing customers to secure goods and paying the bill an agreed number of days later. It is particularly effective for the more traditional trades, such as building and construction, where firms need to secure integral equipment and materials ahead of starting a job.
"Trade credit can be a lifeline to SMEs who often rely on it to buy materials for the job. Businesses dealing direct to trade need to consider the benefits to their organisation of offering credit terms, particularly to smaller, sound businesses that may only need short-term support to meet the needs of a new customer contract," said Max Firth, managing director for Experian Business Information Services in the UK and Ireland.
The issue
Experian's data shows that the level of trade credit accessed by Britain's SMEs has fallen by £4.7 billion since 2009, alongside a significant decline in the proportion of smaller businesses accessing it. The company's BusinessIQ analysis found that 10 per cent of SMEs made use of trade credit in 2008. Now just 6.1 per cent do.
There were some 90,000 companies that had a turnover of less than £50,000 that had access to trade credit in 2007. This fell by nearly 50 per cent in just a year.
Although firms with a turnover of £250,000 also faced diminished access to the finance, the decline was a much smaller 17 per cent decline. Business turning over up to £1 million saw a marginal drop in trade credit while the bigger businesses with revenue in excess of £10 million had broadly the same access.
These figures are not particularly shocking, as the firms with more cash are perceived to be much less of a risk than their smaller SME counterparts, making them a safer candidate for trade credit. At a time when financial security is imperative, this is an understandable assumption. Yet, it means that smaller businesses have to look elsewhere for growth capital.
On the other hand, shifts in the overdraft market are much less significant for SMEs. The availability of overdrafts for SMEs has remained relatively stable over the last decade. Smaller firms were less likely to use overdrafts prior to the downturn and were relatively unaffected by the fallout from the recessionary impacts on this form of credit (see graph).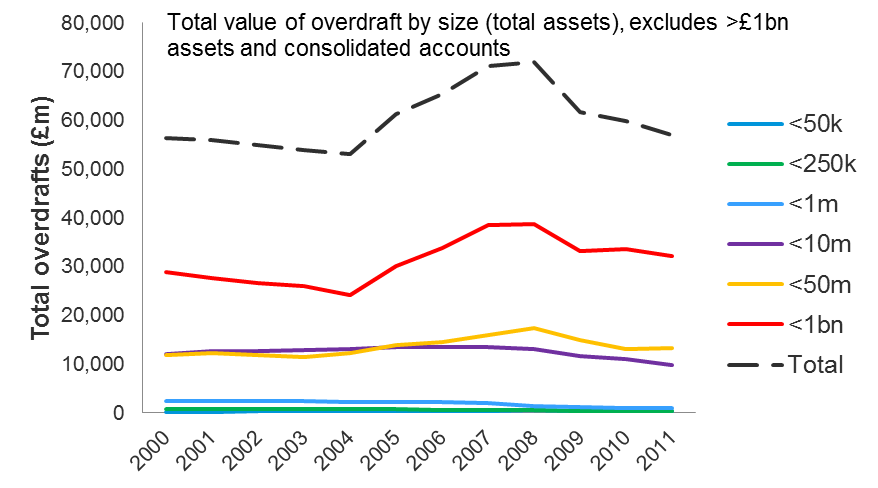 (Source: Experian presentation Optimising Credit Management Practices in Tune with Today's Economy)
The solution
There has been a long-term pattern of companies reducing lending, and this has only become more pronounced since the downturn as organisations became even more cautious.
"As an SME you need to ask yourself very carefully how much you want to borrow when the increased risk of not being able to pay off that lending has increased," explained Mr Firth.
The tightening of trade credit is much more relevant to SMEs and the current economic climate. One key way businesses are securing finance is through director loans. Director loans are a popular method of addressing this, as if they have got a lump sum available in a personal account that is gaining little or no interest, it makes sense to lend it to the operation, explained Mr Firth. This kind of credit is particularly attractive in the short-term, with the number of SMEs reporting it growing from just over 20 per cent in 2006/07 to around just under 30 per cent today.
Another technique is for firms to consider lending out trade credit themselves. During recessionary conditions, there are fewer businesses offering this kind of capital advance, but what they do not realise is that giving companies access to this credit can boost their own operation.
Mr Firth explained that the companies growing now are the ones that have a high and increasing level of debtors. It not only boosts the likelihood of expansion, but also enhanced the extent of their development.
"Extending credit to other companies actually helps your company grow, and it helps the other companies and will ultimately help the economy at large," he said.
"We are not advocating that businesses throw caution aside. Simply take steps to ensure that they are fully informed on their customers and suppliers' current situation, so they can mitigate risk and make informed decisions about how much trade credit they can offer to whom with confidence."
Conclusion
The ways in which SMEs are gaining access to finance has been changing in the long-term and although the downturn undoubtedly altered the climate, the pattern has been in place for some time now. This has ensured that businesses have had to get more resourceful in terms of the ways in which they obtain capital to grow.
The reduction in the availability of trade credit for smaller companies since 2009, limited their ability to take on big orders because they do not have the finance there to buy the materials or equipment necessary.
There are ways to alleviate the situation. For example, there has been a significant increase in the number of firms getting short-term director loans. Yet, these will not be available to all SMEs, as not every director will have enough ready cash to put into the operation.
Mr Firth believes that a key way out of this is for a wider spread of businesses to embrace trade credit themselves.
"As we move towards a more stable economy, the evidence is that extending credit is associated with your own company growth," he said.
Businesses should not take unnecessary risks in regards to this, performing appropriate credit checks on businesses before offering the capital. However, if they do it could prove beneficial for both themselves and the wider economy.