Dawn of the Debt: The Myth of Britains Business Zombies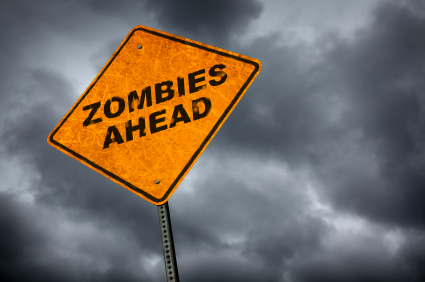 "If you read the newspapers you would think there were zombies everywhere," said Max Firth, the managing director of Business Information Services at Experian. "You would think we lived in some kind of B-movie."
Speaking at the Credit Excellence workshop in Walsall this April, Mr Firth is unsurprisingly not talking about the dead rising up to consume the living, but rather the media's obsession with so-called 'zombie' companies.
What are zombie companies and why are they a problem?
This is a term used to describe businesses that are making enough money to survive but not sufficient to invest in new opportunities.
This has been put this down to the low interest rates in the UK at present, which means struggling firms can afford their interest payments on loans but not much more, leaving loans lingering on as part of company cashflow without debt actually being paid off.
Towards the end of last year, there were industry estimates of 160,000 zombie businesses in the UK, with many suggestions that they have a negative impact on the wider economy around them and causing growth to go into reverse.
Regulators have been urging banks to build up their capital reserves so that when these zombie businesses do fail, they have the money there to cope with the losses. This could impact negatively on small businesses and entrepreneurs looking for cash to get going.
What do the insolvency statistics say?
The situation may, however, not quite be exactly as it seems. The number of companies in existence in the UK remained fairly flat in the early 1990s, before picking up towards the end of the decade and spiking further when Gordon Brown introduced the IR35 tax rate for contractors in 2000.
When the downturn hit in 2008, the numbers suddenly fell at a rate that had not been experienced over the last 25 years. However, there needs to be a differentiation between those companies that were insolvent, which means they lost money at the point of closure, and their benign counterparts shutting up shop with no debts outstanding.
Data shows that the insolvency rate during this difficult period was tiny when compared to the peaks reached in the post-recession 1990s.
The statistics also show that the downturn did not discriminate a great deal when it came to the size of the companies it affected. While medium-sized companies were hit hard, the big companies had an equal chance of going into insolvency. One only has to look to the headlines generated by the closures of Woolworths and Zavvi during the early stages of the recession as evidence.
"Generally I think there is an assumption that large companies are safer, when actually if you look at the rate of which they go into insolvency, there isn't that much difference," said Mr Firth.
Beneath these medium and larger businesses, there are the swathes of micro firms that survived the recession, fuelling much of the discussion on 'zombie' companies. However, hidden within the number of businesses that voluntarily closed down without apparently leaving behind any debt were companies with negative net worth.
This would suggest that Britain's population of small, safe 'zombie' firms suffered as much, if not more, than their medium and large-sized equivalents. In fact, it reveals that there was a huge clear-out of poor performing businesses during this period.
When looking at insolvencies based upon financial strength, rather than company size, the media's 'zombie' panic is further debunked. Between 2006 and the present day, the data shows that the worst rated businesses have undergone higher levels of insolvency, which may come as no surprise. However, Mr Firth also revealed that the spike caused by the financial crisis all came from the firms with the least secure ratings.
"The best rated companies not only have a lower insolvency rate, they also didn't get hit by the downturn. So the clear out of companies that happened during the financial crisis, was not only smaller, but also massively focused on the weaker companies from a debt prospective," he explained.
What do the bank lending statistics say?
There has been much written about banks not lending well.. However, Mr Firth explains that this fails to take into account the fact that the levels of bank debt among small and medium-sized enterprises (SMEs) - including overdrafts and short and long-term loans - has been undergoing a decade-long decline.
"The impression seems to be that bank lending was flat until 2008 and then it just fell off a cliff – nothing can be further from the truth, it has been going downhill for a very long time," he said.
It is not just that companies do not have access to credit, as cash liabilities have continued to grow over the years, Mr Firth continued. There has rather been a massive structural change in the ways in which companies borrow and save.
On the contrary, growth
While many believe that Britain is burdened by hundreds of thousands of 'zombie' businesses, shuffling along without growing or dying, there is, in fact, substantial growth taking place.
The number of companies expanding naturally fell during the economic crisis, dropping to around 25 per cent, but that figure is now growing again.
"There is a good proportion of firms now who are reporting a healthy level of growth which again one might be very surprised by if one read too much of the papers," Mr Firth insisted.
Payment times buck the trend
One thing that has clearly worsened is the cashflow stifling problem of late payment, which has spiked since the onset of the recession.
When it comes to paying invoices on time, large companies are much worse than their smaller counterparts.
"As things start to get better small SMEs will get contracts from larger companies and they will not take account of the fact that large companies pay their bills very slowly and so there will be real cash flow crunches and I think that is one of the real challenges we have in SME economy," said Mr Firth.
This problem became immediately apparent at the beginning of the crisis in 2008 and it has only slightly improved over the last couple of years. At present around one in ten companies will pay their invoices 90 days beyond the terms, while in the pre-recession period this was just one in 30. This can prevent a company meeting its own monetary obligations, limit reinvestment in stock and put an organisation at risk of going under.
Meanwhile, businesses are deteriorating at a much greater speed and folding at a younger age, which poses concerns for the economy. Back in 2011, one could take 1.5 million companies that were either medium or low risk at the time. Two years on, around 40 per cent will have become high risk. This is a very high proportion of businesses declining over time. It may be no surprise, therefore, that British firms are shutting up shop sooner too, with the average lifespan falling from eight years in the late 1990s to about five years today.
Conclusion
Despite the trials and tribulations facing Britain's business population, the notion that the country is plagued by 'zombie' companies is one at that Mr Firth dismisses.
"I would argue completely in disagreement with the 'zombie' stories," said Mr Firth. "There aren't 160,000 zombies out there waiting to go pop at any point. We actually have a very sound SME population overall."
Over the last ten years there has, in fact, been a massive clear out of the weakest companies in the market. There are far fewer very poorly rated firms in operation than there were ten years ago, going against the 'zombie' story, which claims there are not enough insolvencies going on.
This does not mean to say that there will not be insolvencies. Failures occur when companies change gear, as this can cause cashflow problems. Yet, this is an entirely different situation to swathes of 'zombies' lurching around the desolate streets of Britain's economy. The country has a healthy SME population, but it is important to remember that deterioration can occur rapidly.